"Good design is not dependent upon a price tag."
―Mary Hawley

So, maybe you are remodeling a rental property. You want your tenants to truly enjoy the space, and you want to add value to your asset without spending the family fortune. Or perhaps you just purchased your first home, your starter home, and your new 2 bedroom cottage doesn't really warrant soapstone counters but these countes still need to give you joy when you look at them. Today we will examine some very budget friendly solutions that you can still feel proud of.

The most expensive of the bunch, yet a very good deal, are prefabricated granite counters. These are granite counter that have been partially fabricated and are ready for install. Generally, you will find them 100" or 112" long and 26" deep. Some will come with a bull nose edge which is made by gluing a second thickness of the granite to the edge of the main field piece (see picture below) and other times it is just a flat piece with the 2 short sides and 1 long side finished nicely. Often they will come with a 6" high backsplash piece which you can use if you are not doing a full backsplash. You will still need a fabricator to cut out the sink or cooktop openings as well as seam it to the other pieces of the counter, but that can be done on site and will grant you a quick installation. If you have a big island or peninsula, this may not work; but for standard installation it works pretty well while sparing the budget.

Pros: All the pros mentioned in slab granite plus considerable time/cost savings.

Cons: Limited color palette. Limited flexibility to customize.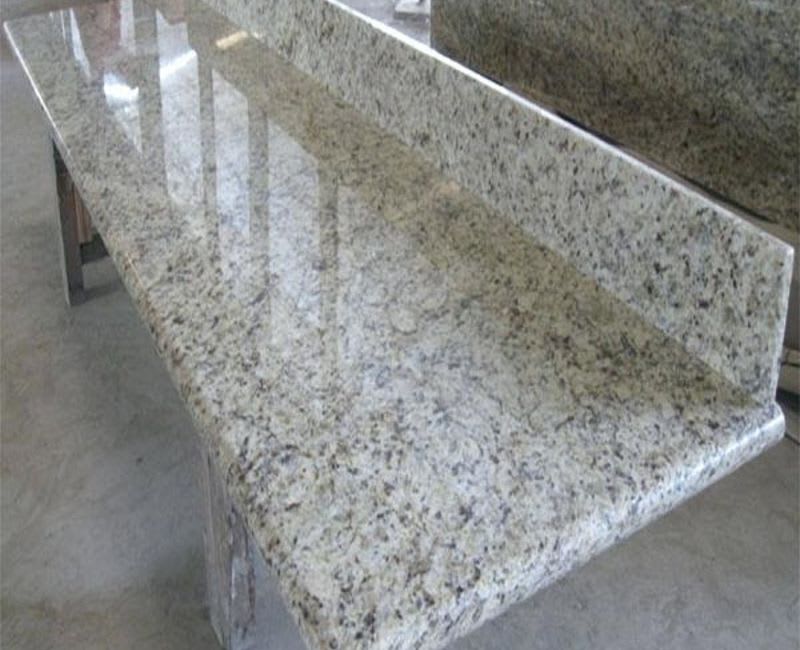 Front edge and side edges has already be fabricated on this prefabricated granite counter.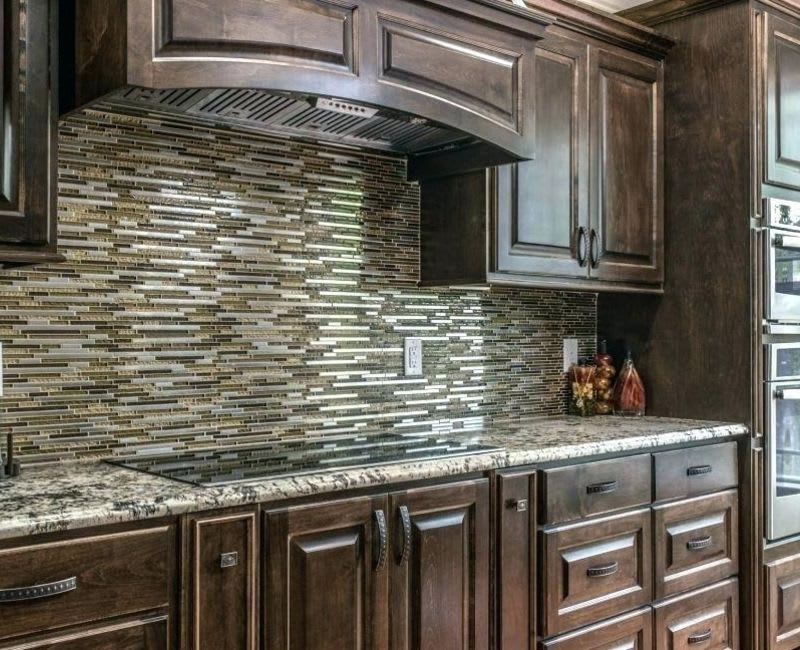 Prefabricated granite counter installed with custom backsplash.

Laminate – this is not your grandmother's countertop! Laminate has come a long way over the years and it is definitely a viable option. There are countless colors and patterns available. Because it is basically a picture (or many pictures layered together) and then laminated (glued) onto a substrate it lacks the sense of "depth" that you see in natural stone. Though you will find many versions of laminate that mimic natural stone, I prefer the solids that would mimic some of the popular quartz counters I see in so many installations today. Oh, and guess what, you can also get laminate in a prefab product to save even more money!

Pros: inexpensive, DIY possible, wide range of colors and patterns.

Cons: NOT heat resistant, can chip, MUST use cutting board.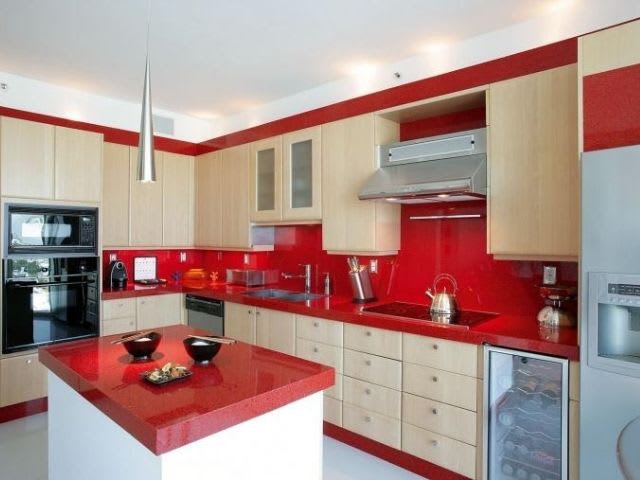 Bright red laminate brings color to this modern kitchen.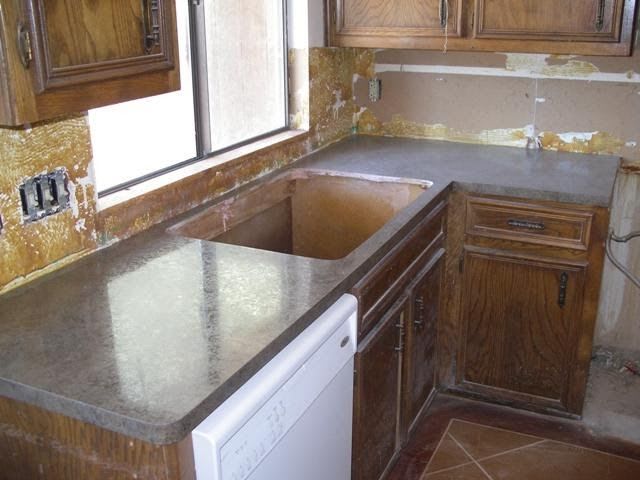 These solid gray laminate counters look very much like quartz counters for half the price.
With all the solid surface options today, tile has fallen out of favor for the countertop portion of the project. Yet, there are some pretty interesting applications that will bring beauty and interest into the space. I recently used tile in an outdoor kitchen because it offered the ability to create an artistic touch. Consider tile in light traffic areas such as a powder room or bar area or maybe just a small section of your kitchen. Have fun mixing and matching the wide range of tiles and create an eye catching installation.


Pros: Endless selection, DIY friendly, budget friendly, create your own art, can be custom cut to any size.


Cons: grout needs maintenance, tiles can crack, use only in well chosen spots.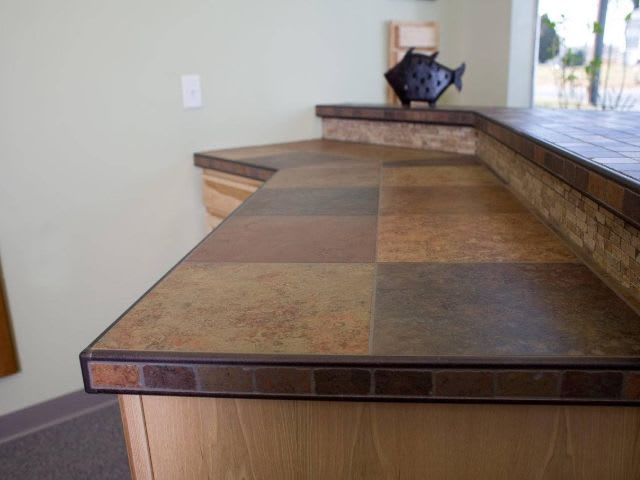 Patchwork of tiles used to create an artistic expression.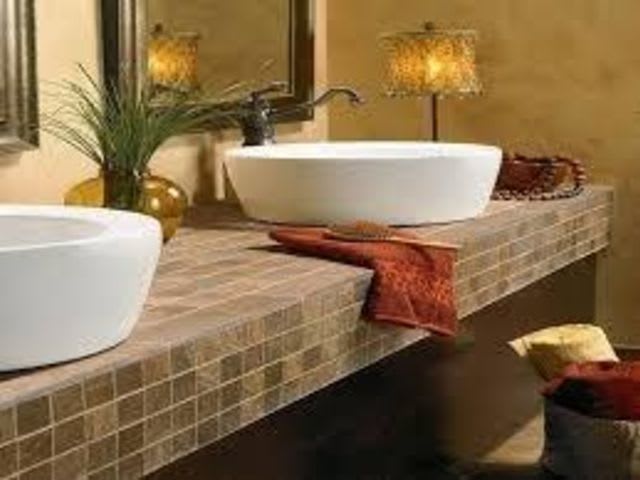 Small mosaic tiles used in this updated bathroom.

That was a very simply and quick primer on countertops for use in all areas of your home. I wasn't able to go into each category enough to give you a full understanding, but you will have enough understanding to choose which products you want to study further. There is no product I have discussed that doesn't have an acceptable use, and every budget can be satisfied with one of these products. If you have any specific questions, someone else is undoubtedly wondering the same thing, so ask! I will answer you and we can start a dialogue from which other will benefit.