"The details are not the details. They make the design."
―Charles Eames

Maybe the most impactful improvement you can make in your home is to update your kitchen countertops and backsplash. This is such a big subject, that I will break it up over the next 2 or 3 blogs. We will start by understanding what your choices are and the pros and cons of each. Of course, I have my favorites, and I won't hold back on letting you know where I stand!

In today's marketplace, the big three are Granite, Quartz, and Solid Surface. There was a time when granite was reserved for high-end construction, but today it can be seen in homes of every price point. There are endless color choices; and now, there are multiple finishes. Granite is always a safe bet, but make sure it relates to the style of your home. Rich colors with a polished finish look great in a traditional home, but if you are going for a modern vibe will may need a more sedate color palate. I love some of the new finish techniques now used on granite such as leather, suede, and matte. Those lend themselves nicely to the industrial look, rustic look, and even some contemporary interiors.

Pros: Withstands heat, chopping, scratching. Adds to home value. Small chips often do not show, but typically do not detract from the elegant look.

Cons: Expensive, needs professional installation. Can crack. Needs to be sealed every 1 – 2 years.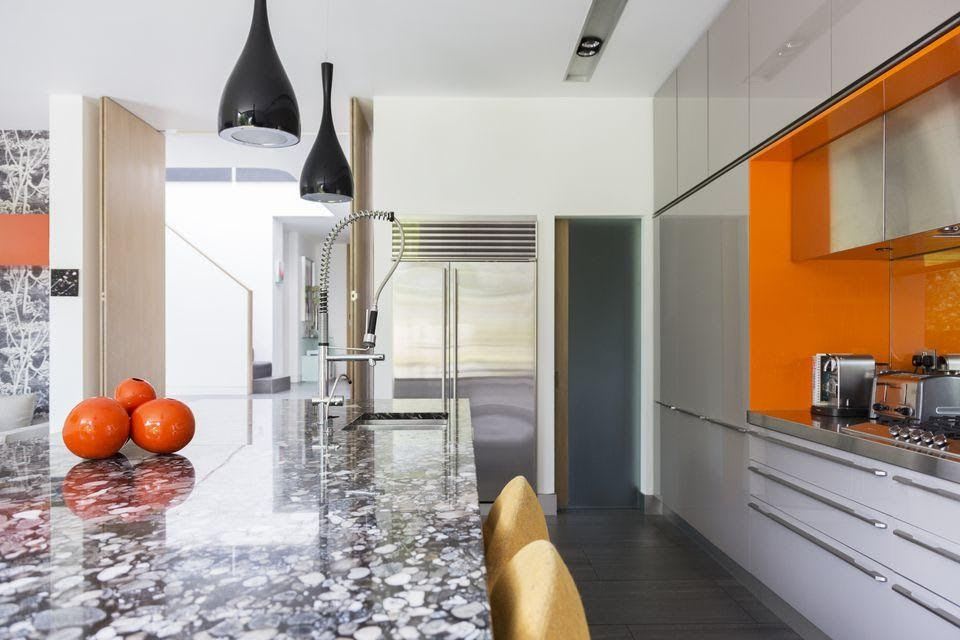 Black/White polished granite looks great in this modern kitchen.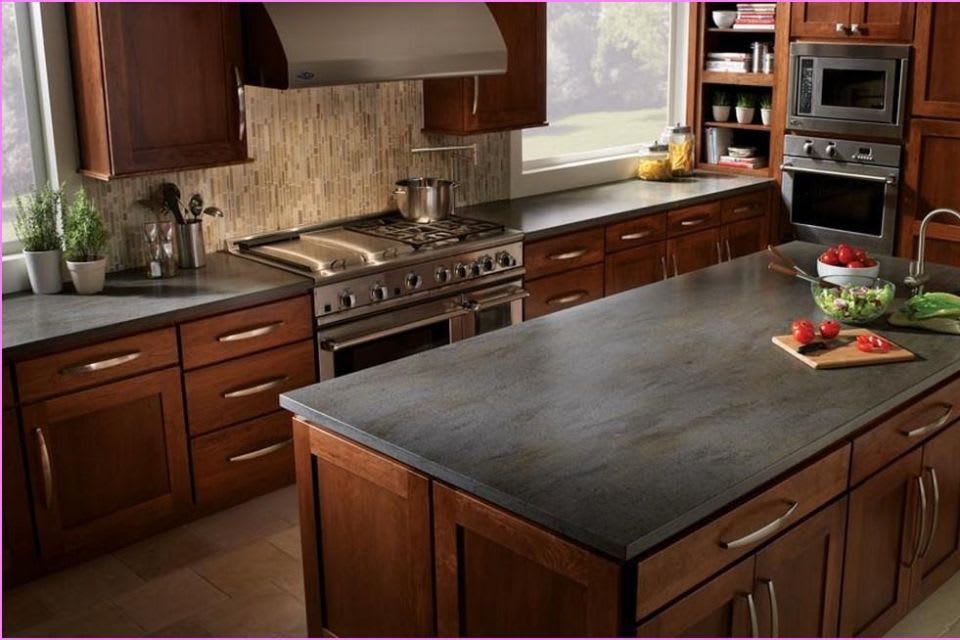 Gray leathered granite fits well into this transitional style kitchen.

Today, most of my clients are interested in Quartz countertops and for very good reason. It comes in so many colors and patterns that most everyone can find something that appeals to them. Made of 5-10% resins with the rest being a combination of crushed or waste from granite, marble, other natural stones, glass, mirror, etc., it is strong, heat resistant and non porous. It requires very little maintenance. When mimicking granite or marble, it looks beautiful in a tradition kitchen. If a flash of color is what you want, the sky is the limit.

Pros: Wide range of colors and patterns. Heat, stain, scratch and bacterial resistant. Never needs sealing. Good return on investment.

Cons: Expensive, though slightly less expensive than granite with professional installation.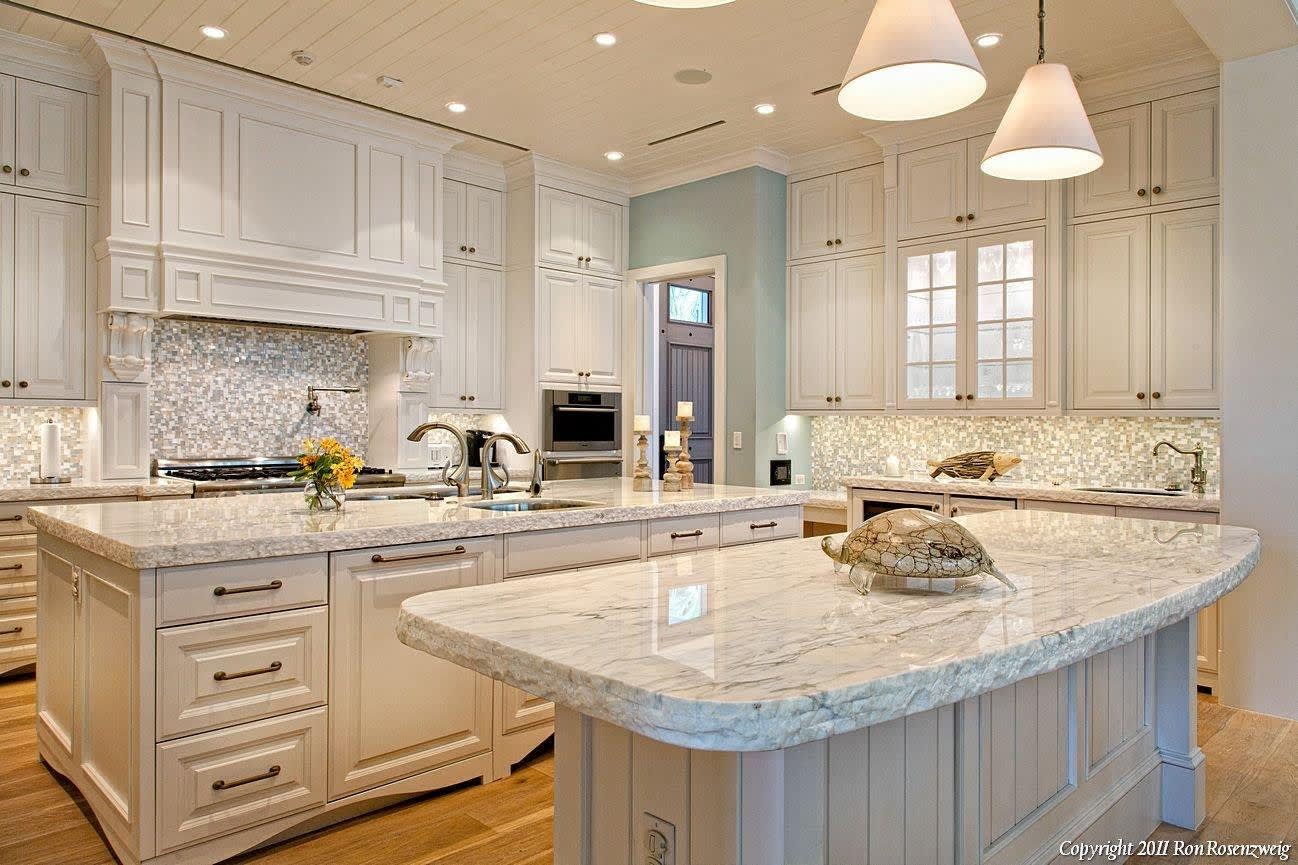 In this traditional kitchen, the quartz mimics Carrera marble.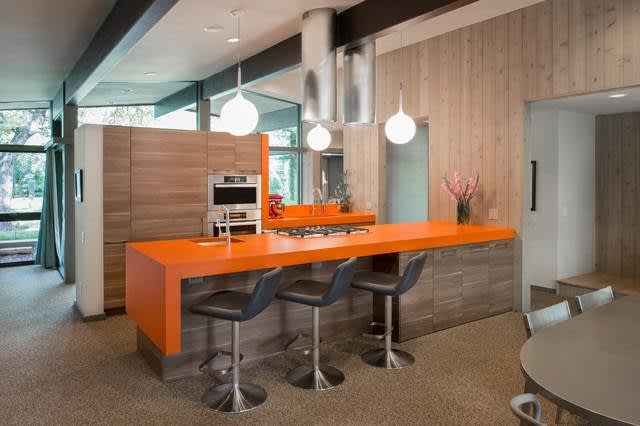 In this mid-century kitchen, orange quartz was central to design.

Lastly, we will talk about solid surface countertops. Similar to quartz counters, they are made up of resins and minerals. But in the case of solid surface, the mix is 1/3 resins (acrylic-based resins are superior to the polyester resins) and 2/3 minerals. The mineral base is what makes it different from quartz. Where quartz uses crushed and waste from natural stone and glass, solid surface counters use a powder called ATH which stands for aluminium trihydate. It is a fine, white powder that helps the solid surface maintain its smooth consistency. Though solid surface doesn't have the same depth and luster found in quartz, the results are still quite stunning and acquired at a much friendlier price.

Pros: Scratches can be buffed out. Stain and bacterial resistant. Can be seemless. Less expensive than granite or quartz. Won't stain and does not need to be sealed.

Cons: Does scratch. Cannot hold up to high heat.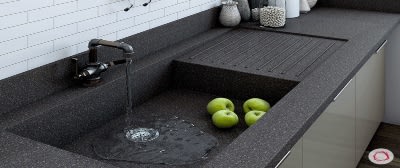 Fully integrated counter/sink/drainboard in solid surface.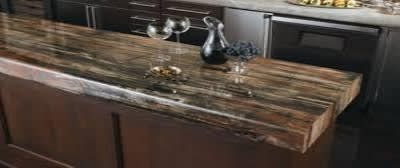 This rustic "wood look" will be easily maintained.

A couple of buying tips. I always look for leftovers, meaning extra material left from a previous job. Fabricators will sell off the leftovers at a great price. Granite yards will quarry a series of slabs that are identical in color and marking. If they sell most of those slabs and are left with just one or two, they often discount to get rid of them. Now, one slab, or leftovers from a previous quartz job may not outfit your entire kitchen, but think about using more then one surface in your kitchen.