"Buy the best and you'll only cry once."
― Miles Redd

Now, not necessarily the best but definitely the most expensive, here are some other products worth looking at. If these turn out to be price prohibitive, consider using on a limited basis. If your kitchen has an island, using one of these materials in conjunction with another more budget conscious product will bring uniqueness and sophistication to your kitchen.

Without a doubt, my dream kitchen would incorporate soapstone. Its palette is limited to shades of white and gray, but its soft and milky look adds to the casual and welcoming feel I want infused into the space. If my budget were limited, I would use it on the island, coordinating it with a subdued perimeter counter selection.

Pros: Non-porous and easy to keep clean - won't absorb stains or bacteria. Adds to home value. Feels good to touch. Low maintenance.

Cons: Expensive, needs professional installation. Can scratch. Limited color palette.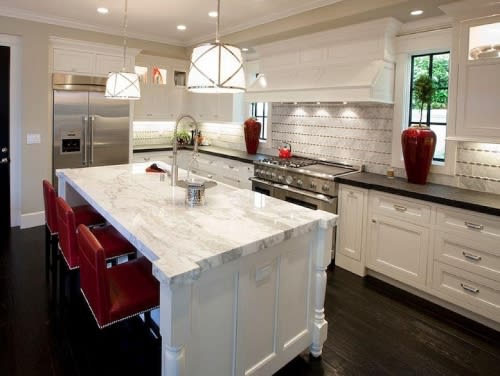 White soapstone w/marbling paired w/quartz counters.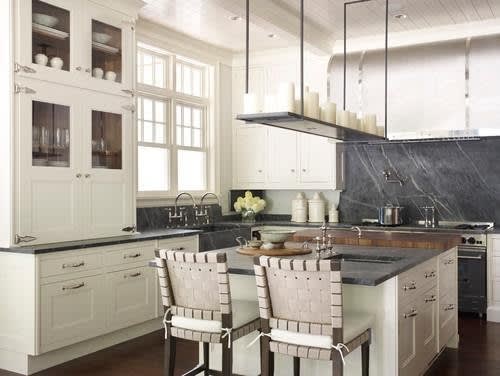 Gray soapstone used on island, counters, and backsplash.

The first time I installed concrete countertops in a kitchen was back in the mid 90s. I loved them then, and they are even better now! If you want that industrial look, this would be a good choice. These countertops are also complimentary to an art filled environment. I love the natural color of concrete, but it is easy to add color to the mix. They can be fabricated into custom shapes, but they are not for the perfectionist. Hairline cracks can occur, and they stain easily. Some will see that as character while it will drive others out of their minds!

Pros: Ability to customize in shape, color, and finish. Develops a natural patina. Will wear for years. Heat resistant. Has a nice feel to the hand.

Cons: Can form hairline cracks (which can be patched). Easily stains even when sealed.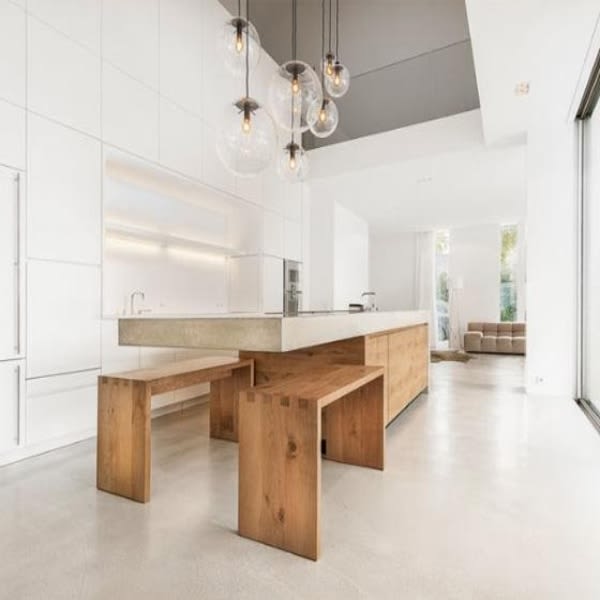 Concrete used on island and extended to create table.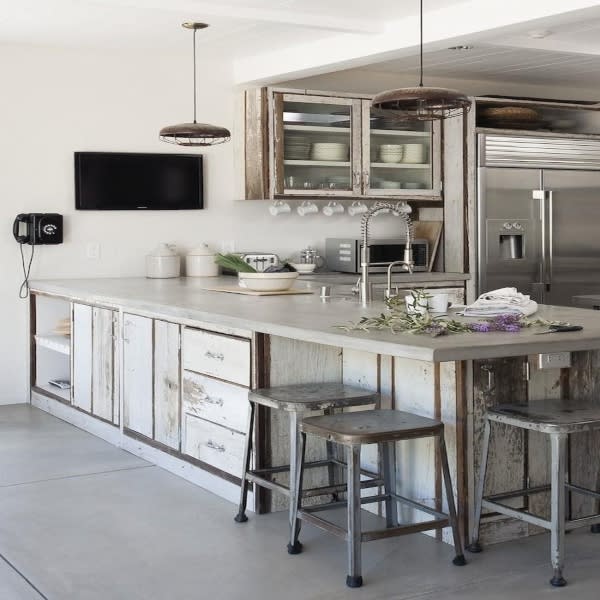 Concrete counters are perfect compliment to reclaimed cabinets.
Natural wood or butcher block is rising in popularity because it's a renewable material. As people strive to be more environmentally friendly, it is clearly a green choice. I wouldn't recommend using it on every counter in the kitchen as it can be maintenance intensive. There are two ways to use it. Either determine that it is decorative and keep it sealed and free from heat and scratching, or use it as a true butcher block and accept the cuts and scratches as you would on any other cutting board. Perhaps you use it on one side of your sink so you can chop and swipe discards away, maybe you use it as the island topper, or maybe it is an isolated cabinet top used primarily as decoration. However you use it, it will bring character, warmth, and charm into the room.

Pros: Scratches and stains can be sanded out. Bacterial resistant. A renewable resource. Consider reclaimed.

​​​​​​​Cons: Does show cuts and scratches of used as cutting surface. Cannot hold up to high heat.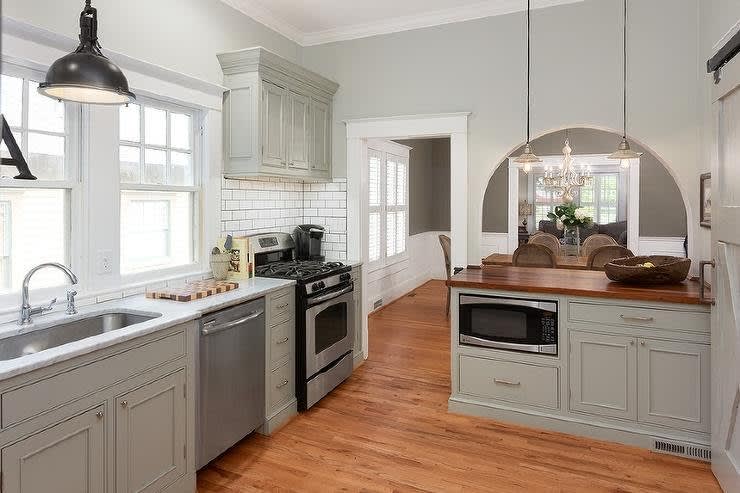 Side counter with decorative wood top.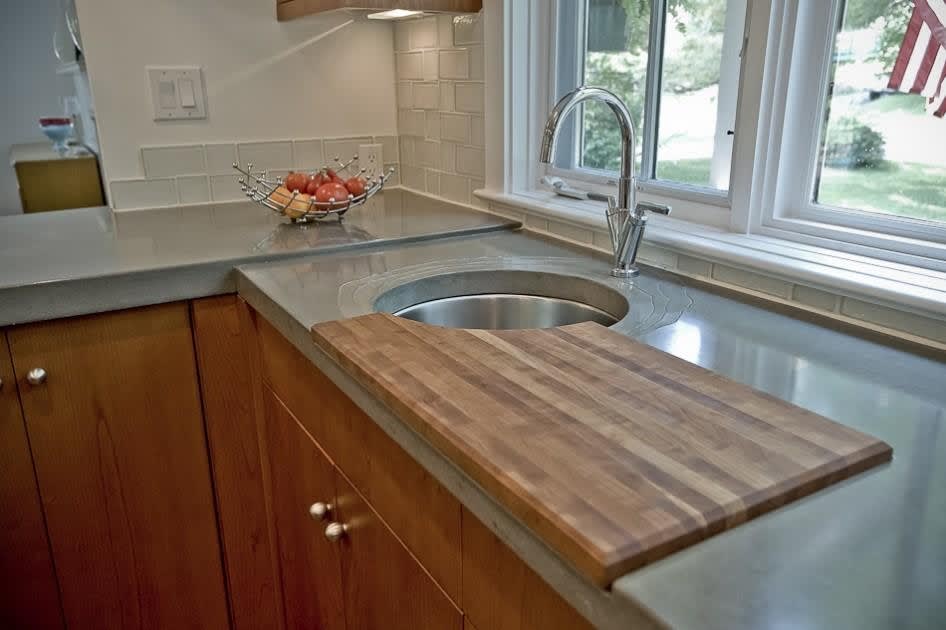 Woodwork surface imbedded into quartz countertop.
It's true that most professional kitchens sport stainless steel counters; but then, no one entertains in those kitchens. If you are drawn to the look of metal, consider using it sparingly or accept the fact that the counters will soon show scratches and dings. I have used zinc on a bar top and quickly found water rings developed. They can be buffed out, but better to invest in lots of coasters to control the problem. I also intentional marred that countertop – using a mallet, I put my own dings into the surface so that if any others occurred, they would simply join into the pattern.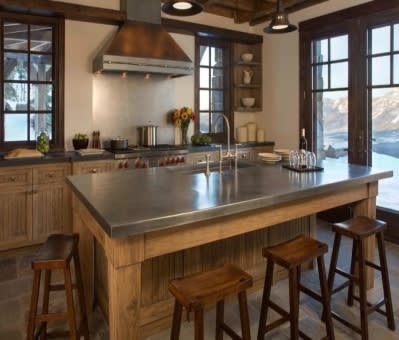 Zinc island countertop paired with soapstone perimeter counters.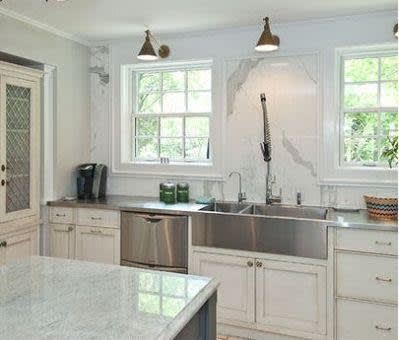 Perimeter stainless steel counters with integrated stainless sink.
One last note, when using a premium counter material as the ones we covered today, you should scale back on the backsplash. Let these lovely countertops take center stage and leave out any competing elements - you won't need them as those counters will garner plenty of admiration.