"Design is not just what it looks like, design is how it works."
― Steve Job

Probably the most significant component in a home's design strategy is the flooring. It is the foundation for everything else you bring into the space. Today, we have an exciting and broad array of products to choose from. Deferring to Steve Jobs and his quote above, how that floor will work for your family is probably the most important determinant.

In this blog, I will introduce all of the different wood and wood look flooring choices. You should understand the differences, as they are vast in durability, maintenance, budget, and the finished look.

Hardwood: A good place to start is with the flagship of flooring, suitable for every design style, hardwood is beautiful and long lasting. From reclaimed wood to smooth and slick planks, there are products to satisfy most any desire. Original hardwood flooring can be found in old homes and refinished to be appreciated once again. Some of the new styles, including hand-scraped and multiple widths, bring incredible interest into the design scheme. New textures, finishes, and layouts will give you the opportunity to create a unique look for your home. No one will turn his or her nose up to a beautiful hardwood floor.

Pros: timeless, durable, ability to refinish, ecofriendly, adds value to your home.

Cons: Expensive, needs professional installation. Can be loud. Can be damaged by sun and water. Can be scratched and dented.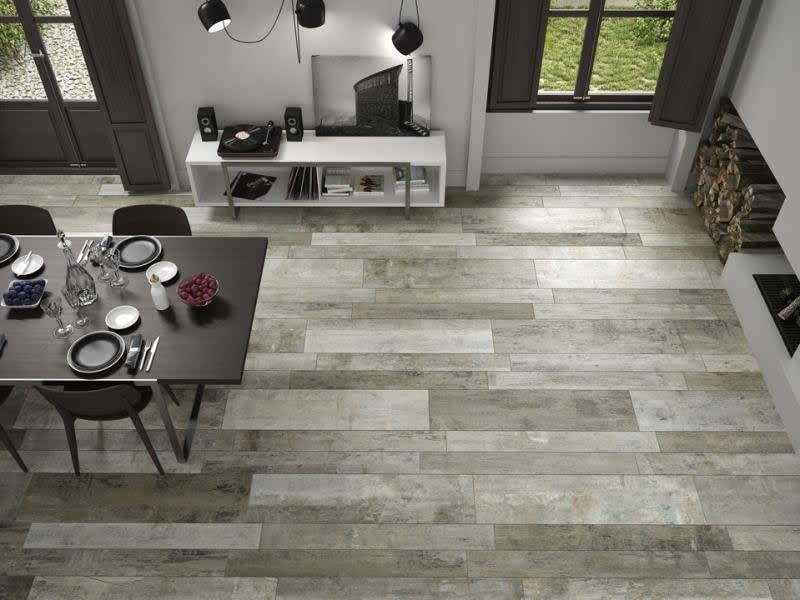 High variation hardwood flooring – variation of color and width adds distinction to this room.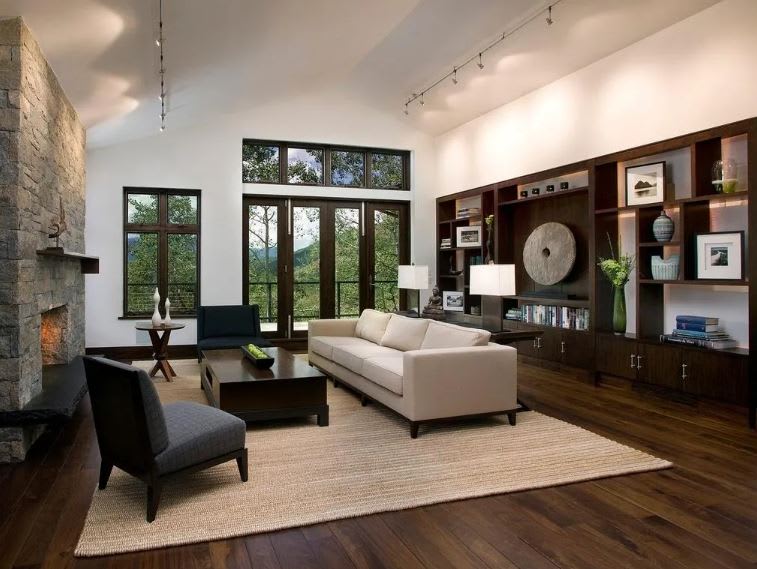 Classic walnut hardwood – looks great in a traditional or in a modern environment.
Engineered Wood: A budget friendly alternative to true hardwood is engineered wood flooring. Engineered flooring is made by fusing a veneer of natural wood to a core built of many layers of crisscrossed plywood and another layer of wood as the base. If hardwood is your desired flooring but your budget is restricted, this can be a great alternative. It is still durable, easy to maintain, and easier to install then traditional hardwood. Make sure to purchase from a reputable manufacturer so that you know you are getting a superior quality product.

Pros: Less expensive and easier to install. Cleans up easily. There is a pretty good variety of finishes.

Cons: Because the color is in the veneer, you may not be able to refinish – some manufacturers will say you can refinish once. If you want an unusual color, texture, or layout, you may not be able to find what you are looking for.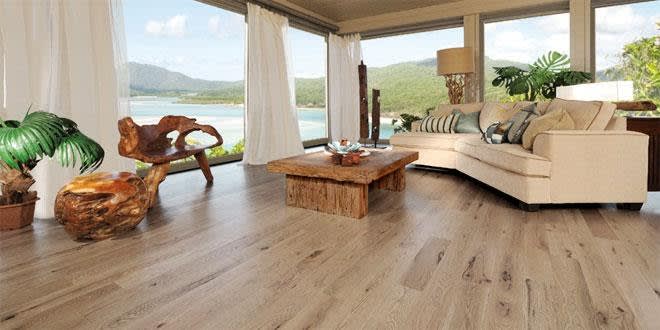 Light and modern engineered flooring looks great in a casual space.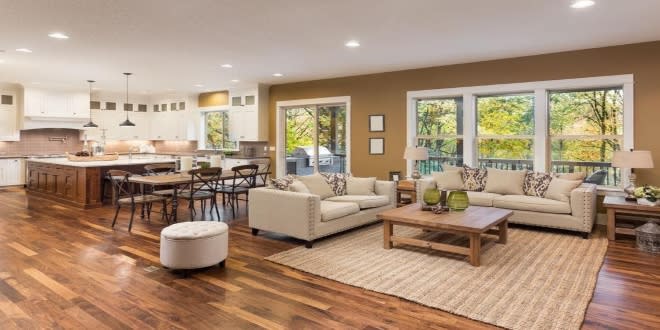 Classic brown engineered flooring brings warmth to this room.
Laminate Wood: Here is the product that will give the look of wood when the budget is resisting. Before you skip this paragraph because you have a bad impression of this product, read on – it can really serve a purpose. Made from several layers of synthetic materials and then fused together, it can hold up to some water, stains, and heavy foot traffic. The essence of the material is the photo or decorative layer which is created with an image or pattern, of wood in this case, printed on paper-like materials and then embedded in resin. It is one of the most resilient and durable floor surfaces available, and new techniques have given it a much more realistic look.

Pros: Easy to install, easy to clean. Can be used in semi-moist areas such as bathrooms and kitchens. Won't dent or scratch easily. Quality is much better today then it was in the past.

​​​​​​​Cons: Because it is created using a picture, you can see repeated patterns if you look closely. Laminate lacks the depth you see in real wood. Traditionally, laminate does not add value to a home.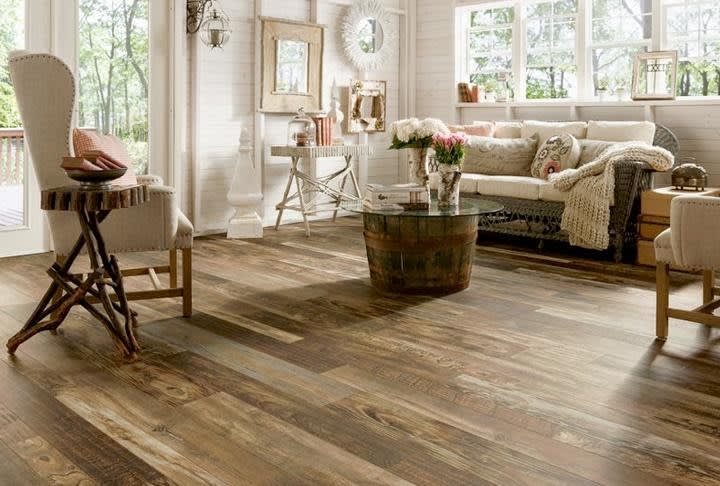 Walnut look laminate flooring that will stand up to wet shoes on a rainy day.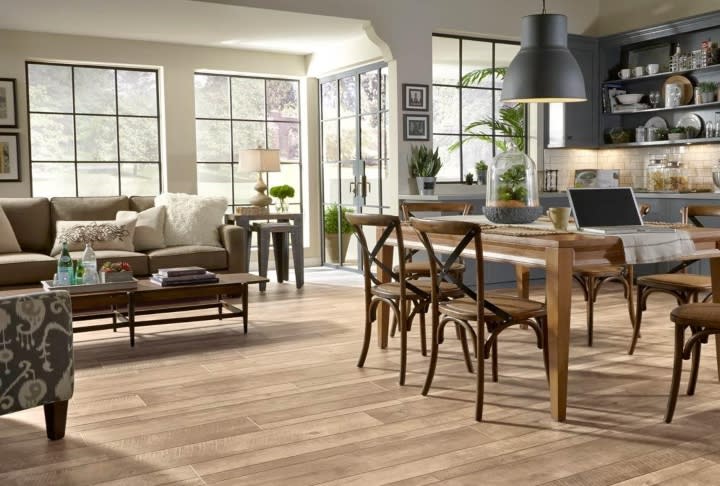 Laminate flooring in varying widths adds interest and style to the room.
Luxury Vinyl: My personal go-to flooring is Luxury Vinyl Planks (LVP) or Luxury Vinyl Tile (LVT). It is very considerate to the budget, holds up to a busy lifestyle, and looks so much like real hardwood that it has been known to fools even the experts. The selection of colors and styles are as endless as hardwood itself so you will easily find something that gives your room the character that you are looking for. Made in a similar way as laminate by layering materials together, the materials used are different which is why, in my opinion, the LVT product line takes front and center. It is more durable, more water resistant, and benefits from texture that mimics the real thing. Run your hand over this product, and you might be fooled into believing you are feeling the ridges of real wood or the hand scraped texture of reclaimed timbers. Though the top end brands may cost more than the top end laminates, the life span of the luxury vinyl product is about double.

Is sound a concern in your flooring choice? Maybe you live in an upstairs housing unit and don't want to disturb your downstairs neighbor. Luxury vinyl is a great choice as it has superior sound absorption as compared to all the other products we discussed today.

Pros: Extremely durable and water resistant. Cleans up easily. Feels like the real thing. Better temperature and sound insulation. Budget friendly.

​​​​​​​Cons: Extensive prep work is necessary. Can be damaged (think appliances dragged across the room). Is not a green product. Will not add as much value to your home as hardwood or engineered wood flooring.
Gray is the new beige but combining the two colors gives this look longevity.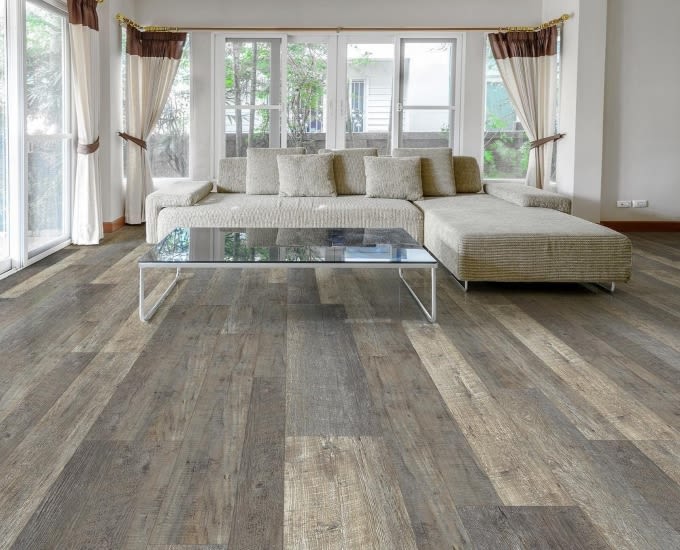 Luxury Vinyl Planks can be installed in complicated patterns so now imagination will be the only limitation.
Flooring is probably the most important upgrade you can make to a home, but you don't need to break the bank to get a great look. Yes, improving home value is important, but don't discount the idea that you are also making an improvement in your family's enjoyment of your home. If the end result is appealing, you will have accomplished what you set out to do.